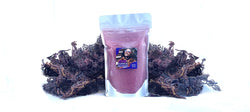 FELICITY'S PURPLE SEAMOSS
Purple sea moss is purple due to anthocyanin which is a plant metabolite. Anthocyanin gives plants and fruits their rich red, blue and purple colors. The pigment also indicates the plant is high in antioxidants perfect for that added boost for your immune system. Purple Sea moss contains 92 of the 102 minerals that our bodies need, along with Vitamins A, B, C, D, E, and K!

This Amazing purple sea moss grows in temperatures of 75-80 degrees year-round and naturally obtains an upscale berry color from the sun. Sea moss contains a whooping 92 minerals of the 102 minerals vital to the physical body. The absence of interaction means the product's flavor isn't suffering from your refrigerator or freezer environment.
Features:
Boosts Immunity
Increases Energy
Appetite suppressor
Reduces Inflammation
Mood Enhancement
Support Reproductive Health
Soothes Digestive Tract
Supports the Oxygenation of cells
Helps eliminate excessive mucus
Improves Nutrient Absorption
Nourishes & Beautifies Skin/Nails/Hair
Builds Strong Bones And Strengthens Connective Tissue
Specifications:
Type: Chondrus Crispus
Formulation: Whole Plant
Purpose: Weight Loss Cell Food Vitamins & Nutrients