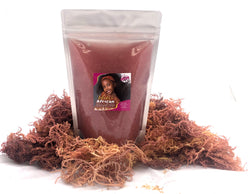 FELICITY'S AFRICAN SEAMOSS WITH ELDERBERRY
Our Pinkish-color Sea Moss referred to as 'Raspberry moss' derives from the coastline of Africa. The antimicrobial and anti-inflammatory properties in our Felicity's Raspberry moss will help in fighting issues like skin aging by lowering the extent of microorganisms within the skin. Rich in omega-3 fatty acids, high in zinc, calcium, and vitamins A&B complex than much more. Consuming 1-2 tablespoons of Sea Moss gel daily will help with fatigue, thyroid problems, iron deficiency, joint problems, expel mucus from your lungs, mental state issues, and helps aid in weight loss.

This Felicity's Raspberry Sea Moss is nonporous and impermeable which suggests that the packaging and therefore the contents haven't any interaction. The absence of interaction means the product's flavor isn't suffering from your refrigerator or freezer environment, allowing the ocean moss and the other stored foods or beverages to possess an extended time period while keeping their strength and aroma.
Features:
Boosts Immunity
Increases Energy
Appetite suppressor
Reduces Inflammation
Mood Enhancement
Support Reproductive Health
Soothes Digestive Tract
Supports the Oxygenation of cells
Helps eliminate excessive mucus
Improves Nutrient Absorption
Nourishes & Beautifies Skin/Nails/Hair
Builds Strong Bones And Strengthens Connective Tissue
Specifications:
Type: Chondrus Crispus
Formulation: Whole Plant
Purpose: Weight Loss Cell Food Vitamins & Nutrients