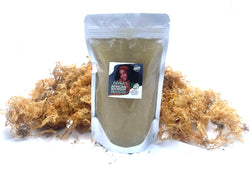 FELICITY'S AFRICAN SOURSOP SEAMOSS
Discover the perfect harmony of nature's treasures with our luxurious Gold Sea Moss, now enhanced with Africa's delightful gem—Soursop! Sourced ethically from Tanzania, our African Soursop is rich in vital nutrients like vitamin C, potassium, and iron.
Experience the exceptional benefits of our unique fusion, which combines the power of Phytosterols and the antimicrobial properties of tannins. Furthermore, the Flavonoids found in Soursop work tirelessly to regulate cellular activity and support your body's natural defenses.
Free radicals can wreak havoc within the body, leading to stress and inflammation. Our Gold Sea Moss with Soursop steps in to provide a powerful blend of antioxidants, supporting overall immune health and promoting a sense of well-being.
Indulge in this elegant blend of nature's finest ingredients, carefully crafted to elevate your wellness journey. Don't wait any longer—experience the remarkable synergy of Gold Sea Moss and Soursop today!