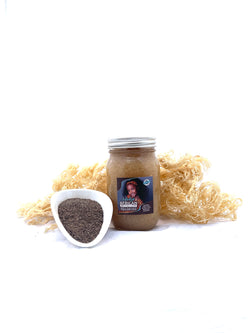 FELICITY'S AFRICAN BLADDERWRACK MOSS WITH JAR
A marriage made in heaven....Felicity's Seamoss + African Bladderwrack is the complete package your body craves. Bladderwrack is a rich source of beta-carotene, potassium, calcium, magnesium, sodium, zinc, and vitamins A and C,. Classified as a true superfood bladderwrack is also full of phytonutrients which include phlorotannins and fucoxanthin known for their antioxidant benefits. Antioxidants fight free radicals that damage cells and lead to chronic disease and premature aging.
Bladderwrack contains Fucoidan, a unique fiber that can regulate cell growth. Vital for irregular cell growth and tumor growth, it promotes a healthy brain, thyroid, bones, lungs, energy levels, immune response and mood.
The sea moss and bladderwrack benefits you can expect to encounter include:
Fat reduction (through fucoxanthin)
Improved Eye Health (through zeaxanthin)
Healthier Skin
Improved Digestion
Higher Energy Levels
Reduced Illness
Reduced Recovery Times