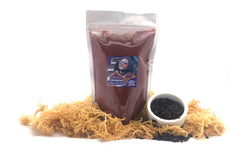 FELICITY'S ELDERBERRY SEAMOSS
Elderberries are antiviral and prevent harmful foreign substances from replicating in your body. Elderberries fight colds, flu, aids sinus relief, lowers blood pressure, and eases allergies making them perfect to prevent illnesses when the weather switches. Elderberries enhance immune function by boosting the production of cytokines. It is also amazing to apply on skin, especially when blended with sea moss gel.

This Felicity's Elderberries Sea Moss Glass Jars are a secure material, nonporous and impermeable which suggests that the packaging and therefore the contents haven't any interaction. The absence of interaction means the product's flavor isn't suffering from your refrigerator or freezer environment, allowing the ocean moss and the other stored foods or beverages to possess an extended time period while keeping their strength and aroma.
Features:
Boosts Immunity
Increases Energy
Appetite suppressor
Reduces Inflammation
Mood Enhancement
Support Reproductive Health
Soothes Digestive Tract
Supports the Oxygenation of cells
Helps eliminate excessive mucus
Improves Nutrient Absorption
Nourishes & Beautifies Skin/Nails/Hair
Builds Strong Bones And Strengthens Connective Tissue
Specifications:
Type: Chondrus Crispus
Formulation: Whole Plant
Purpose: Weight Loss Cell Food Vitamins & Nutrients