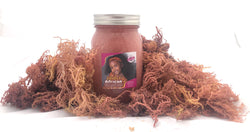 FELICITY'S AFRICAN SEAMOSS WITH JAR
Our Pinkish-color Seamoss referred to as 'Raspberry moss' derives from the coastline of Africa. This Wildcrafted Sea moss is grown and harvested by the ladies of Zanzibar within the clearest ocean water. This Amazing sea moss grows in temperatures of 75-80 degrees year-round and naturally obtains an upscale berry color from the sun. Sea moss contains a whooping 92 minerals of the 102 minerals vital to the physical body.

The antimicrobial and anti-inflammatory properties in our African Zanzibar Seamoss will help in fighting issues like skin aging by lowering the extent of microorganisms within the skin. Rich in omega-3 fatty acids, high in zinc, calcium, and vitamins A&B complex then far more. Consuming 1-2 tablespoons of sea moss gel daily will help with fatigue, thyroid problems, iron deficiency, joint problems, expel mucus from your lungs, psychological state issues, and helps aid in weight loss.

This Raspberry sea moss is sort of amazing adding health benefits to the physical body with only a tbsp portion each day. Classified because the 'Bentley of Sea moss', Felicity's AFRICAN Seamoss will offer you an active boost to your system straight from Africa.

Features:
THYROID SUPPORT: African Sea Moss and Bladderwrack both contain iodine, a mineral essential for an honest functioning thyroid.
IMMUNITY SUPPORT: Sea moss is believed to contain many of the essential minerals, vitamins, and nutrients that promote a healthy system.
DIGESTIVE SUPPORT: due to the soothing effects of Sea Moss on the mucous membranes within the body, it's been reported to be a tremendous digestive aid.
JOINT AND SKIN SUPPORT: Sea Moss is understood to assist support healthy joints and skin appearance.
Specifications:
Type: 

Chondrus Crispus




Formulation: 

Whole Plant

Purpose: 

Weight Loss Cell Food Vitamins & Nutrients