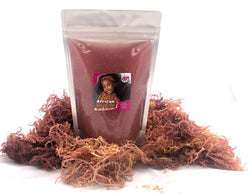 FELICITY'S AFRICAN SEAMOSS
Our Pinkish-color Sea Moss referred to as 'Raspberry moss' derives from the coastline of Africa. The antimicrobial and anti-inflammatory properties in our Felicity's Raspberry moss will help in fighting issues like skin aging by lowering the extent of microorganisms within the skin. Rich in omega-3 fatty acids, high in zinc, calcium, and vitamins A&B complex than much more. Consuming 1-2 tablespoons of Sea Moss gel daily will help with fatigue, thyroid problems, iron deficiency, joint problems, expel mucus from your lungs, mental state issues, and helps aid in weight loss.

This Felicity's Raspberry Sea Moss is nonporous and impermeable which suggests that the packaging and therefore the contents haven't any interaction. The absence of interaction means the product's flavor isn't suffering from your refrigerator or freezer environment, allowing the ocean moss and the other stored foods or beverages to possess an extended time period while keeping their strength and aroma.
Features:
THYROID SUPPORT:

 

African Sea Moss

 

and Bladderwrack both contain iodine, a mineral essential for an honest functioning thyroid.
IMMUNITY SUPPORT:

 

Sea moss is believed to contain many of the essential minerals, vitamins, and nutrients that promote a healthy system.
DIGESTIVE SUPPORT:

 

due to the soothing effects of Sea Moss on the mucous membranes within the body, it's been reported to be a tremendous digestive aid.
JOINT AND SKIN SUPPORT:

 

Sea Moss is understood to assist support healthy joints and skin appearance.
Specifications:
Type: Chondrus Crispus
Formulation: Whole Plant
Purpose: Weight Loss Cell Food Vitamins & Nutrients