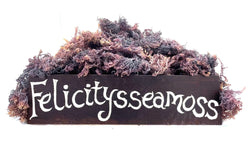 FELICITY'S RAW ZANZIBAR SEAMOSS
Felicity's Zanzibar Seamoss is our newest item sourced by Felicity following her month-long vacation to the motherland.

This superfood supplement is considered one of the healthiest and most nutritious foods in the world. Boasting a high presence of anthocyanin also found in purple vegetables, purple cabbage, eggplant and blueberries---anthocyanin can prevent cancer, and can improve memory.
Our raw Zanzibar Seamoss is cultivated in deep crystal clear waters off the coast of the island of Zanzibar. The Sea vegetable is packed with nutrients and vitamins, as well as essential fatty acids, a high concentration of minerals, antioxidants and protein great for supporting a healthy immune function.  Felicity's Raw Zanzibar Seamoss is grown and harvested organically and NEVER pool grown.

Now you can make african sea moss gel as needed in the comfort of your own home.